From Conflict Resolution to Building Schools, Business Professor Gives Back to his Native Ethiopia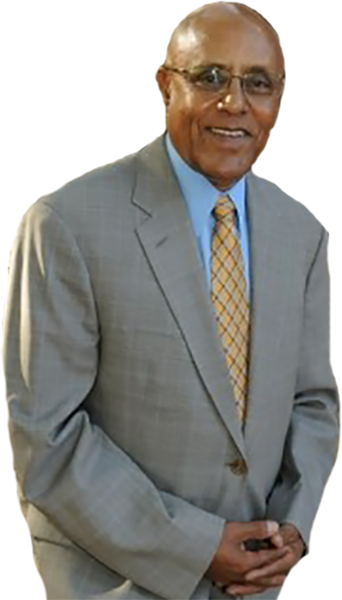 When Berhanu Mengistu was a little boy, his mother saved his life.
Mengistu, the youngest of 13 children, was lying in bed, staring at the ceiling when the house – in Ethiopia's northern countryside – caught fire. His mother grabbed him and rushed out. As she left, the ceiling collapsed.
A sign in his office recalls an African proverb: "A good deed is something one returns." It's a message Mengistu has taken to heart in a big way.
His work has stretched across Africa, but he has repeatedly returned to Ethiopia, sometimes engaging with leaders of rival factions, to train the civil service, help launch the country's first doctoral program in public policy, and teach conflict resolution – one of his specialties – to judges.
He has contributed to projects ranging from building schools – he proudly laid the first brick for one – to digging wells so women wouldn't have to carry water on their backs as his mother did.
"I'm the one who's getting the gift," Mengistu said.
Mengistu was the only one of his siblings to leave Africa and attend college, "though most of my brothers were much smarter." He received his doctorate from the University of Delaware in public policy.
A professor of public service in the Strome College of Business, Mengistu has taught at Old Dominion since 1985. He's received three Fulbright fellowships, to Ethiopia, South Africa and Ukraine. Mengistu's escape from the fire wasn't his only close call in Ethiopia. When he returned in 1976, he found that "you had to take sides. Either you were in support of the socialist program or you were part of the resistance. I could do neither. I concluded there was no place for me there."
Mengistu came back to the United States. The next day, the Ethiopian government declared that no one could leave the country.
"I was a lucky guy," he said. "Except for one, the government killed most of my buddies. I would have been one of the dead bodies."
Last year, as Mengistu planned a visit, he received an email from a contact that repeated the cryptic message "My dear professor." He took it – correctly, he found out later – as a signal to stay away. So he did. The area he had planned to visit was besieged by violence that summer. Harvey White, a professor of public policy and administration at the University of Delaware, has collaborated with Mengistu on conferences every other year to address issues in Africa. "He is committed to give something back to his country," White said. "His passion for that work is unrelenting."
Even when Mengistu is obstructed by Ethiopia's political upheaval. He had worked with the country's Supreme Court to set up a court-supervised mediation program to stem rampant corruption. But it was delayed indefinitely in 2016, when the government declared a state of emergency after more than 650 people were killed in political protests.
"It's very difficult, but giving up is not an option," Mengistu said. "I'm going to do everything I can as long as I'm alive."